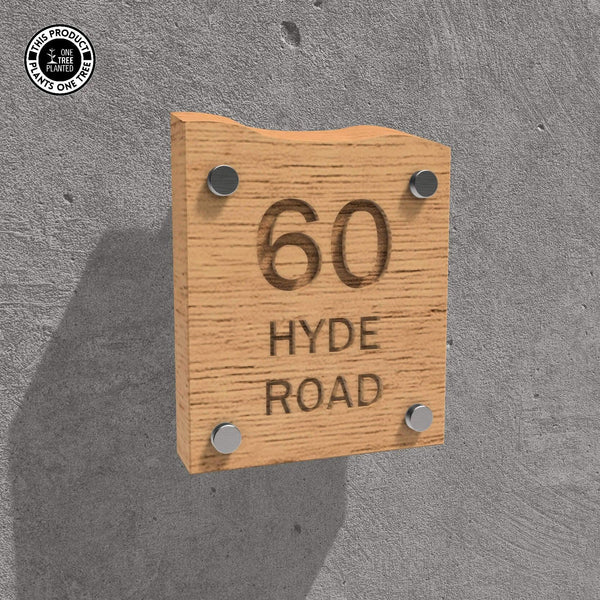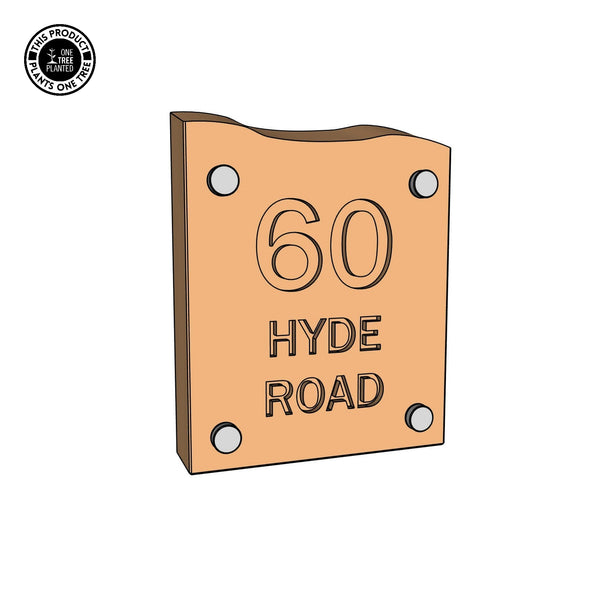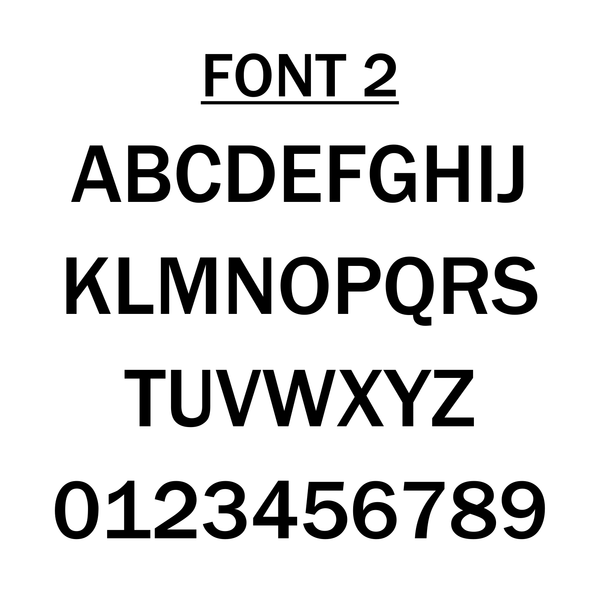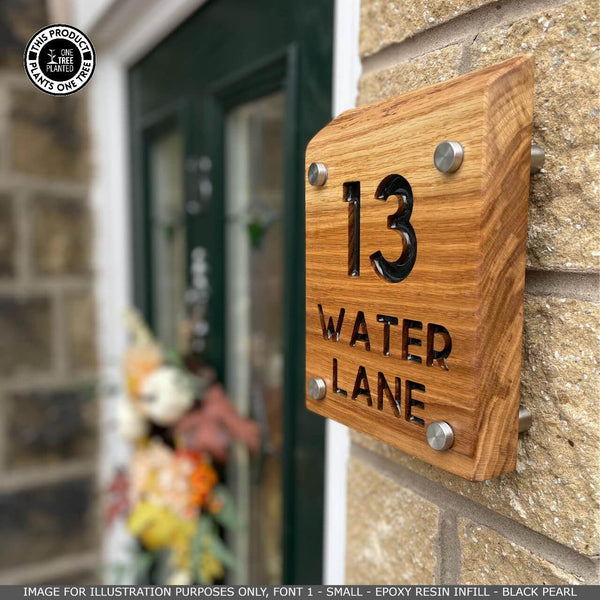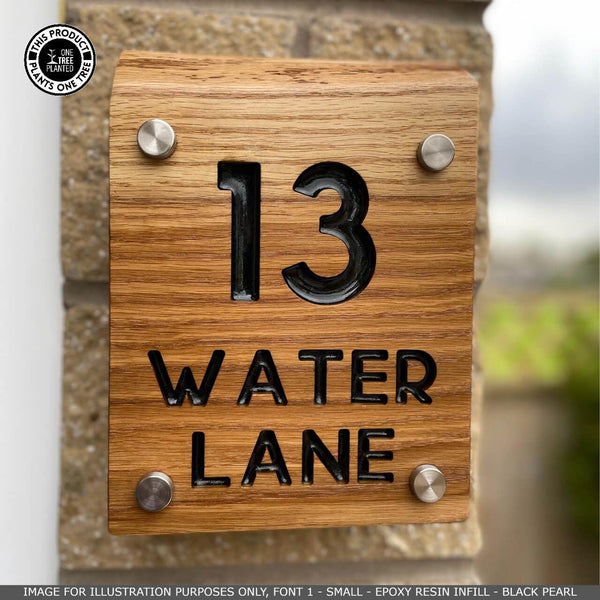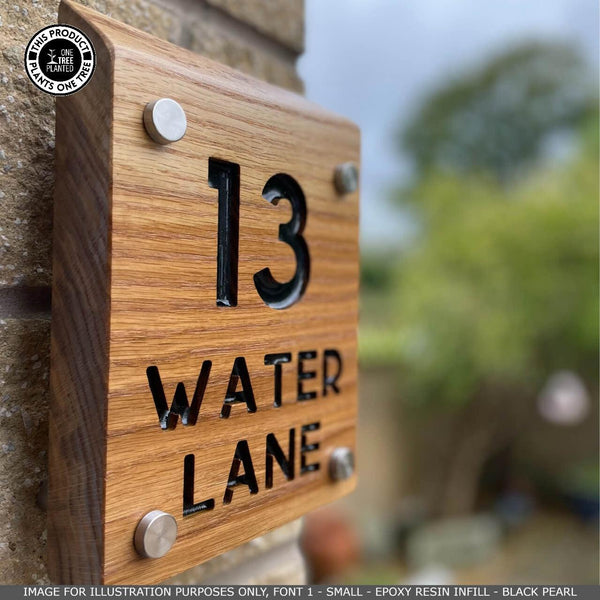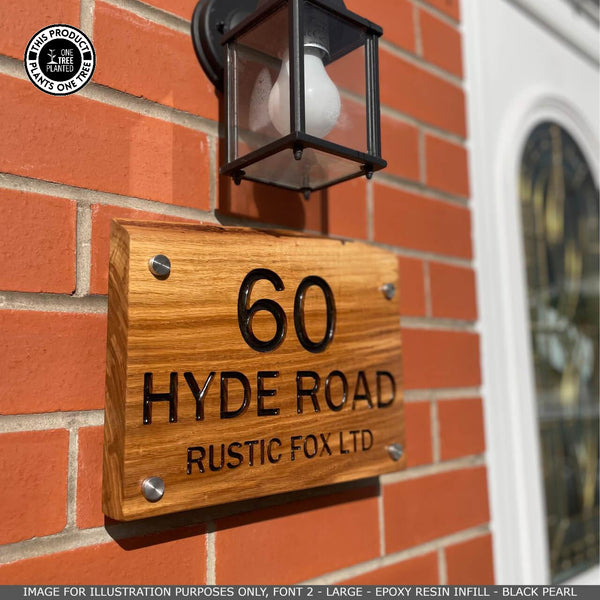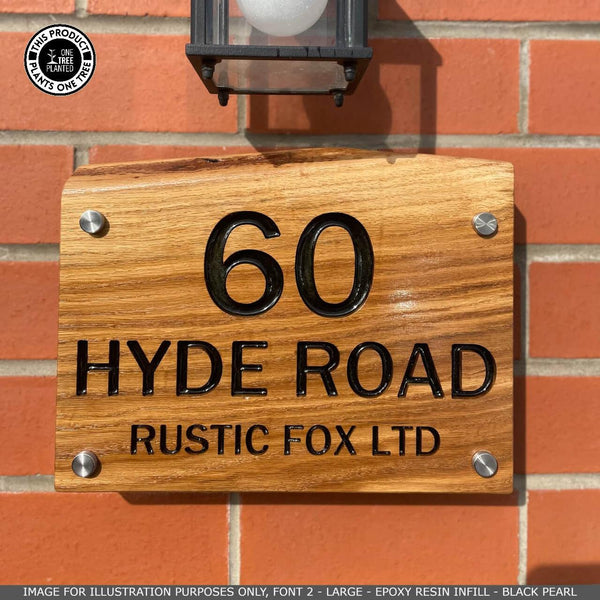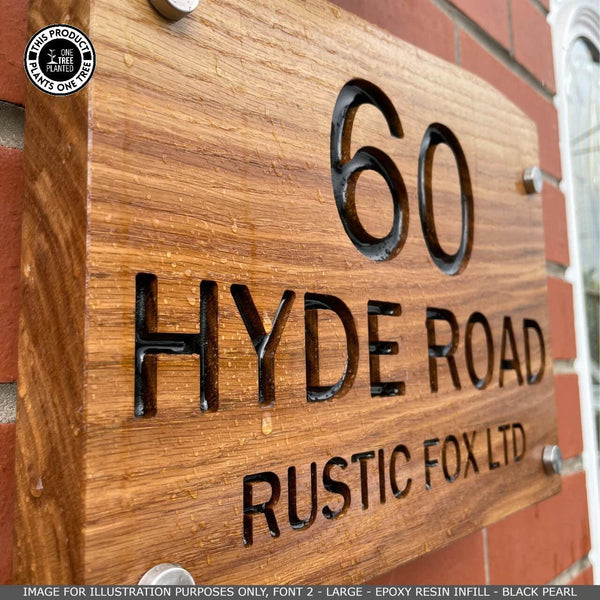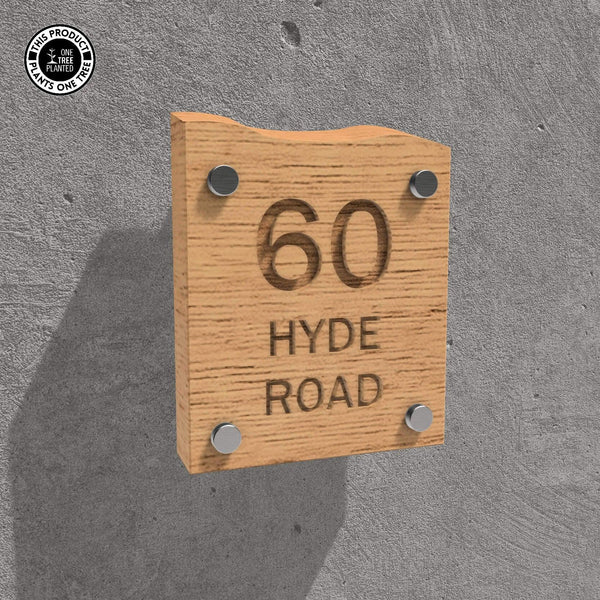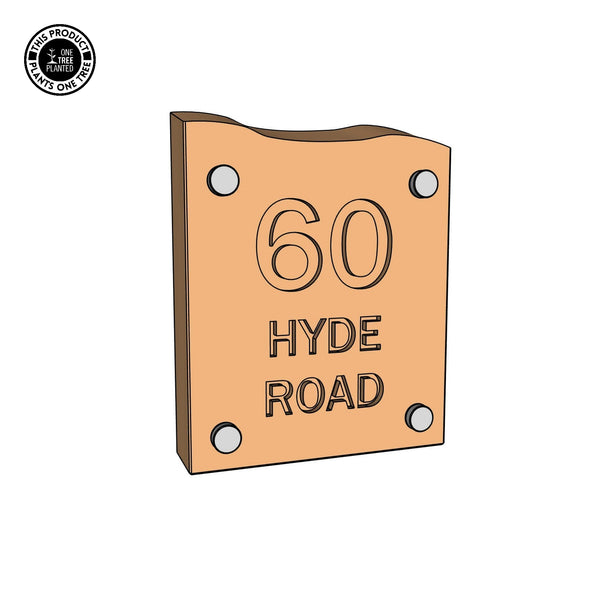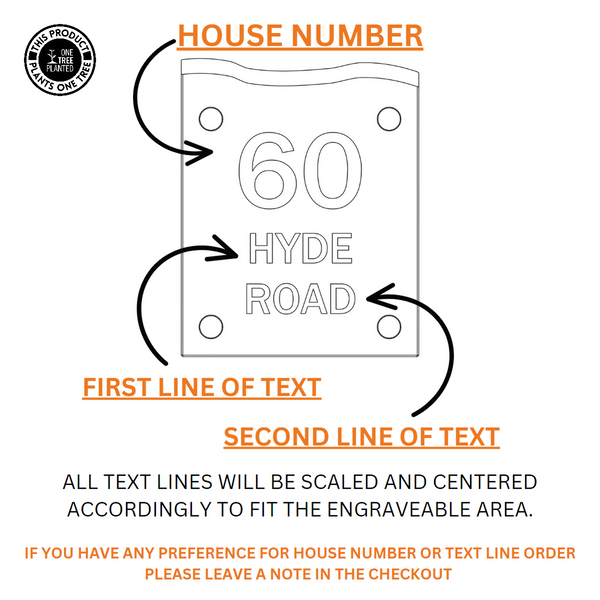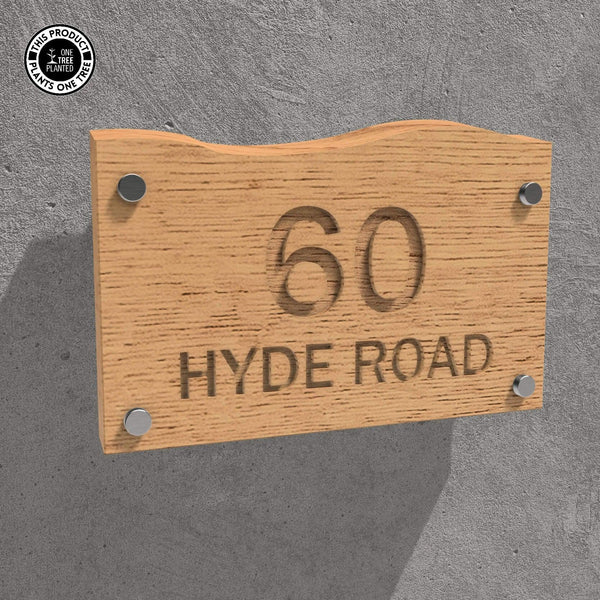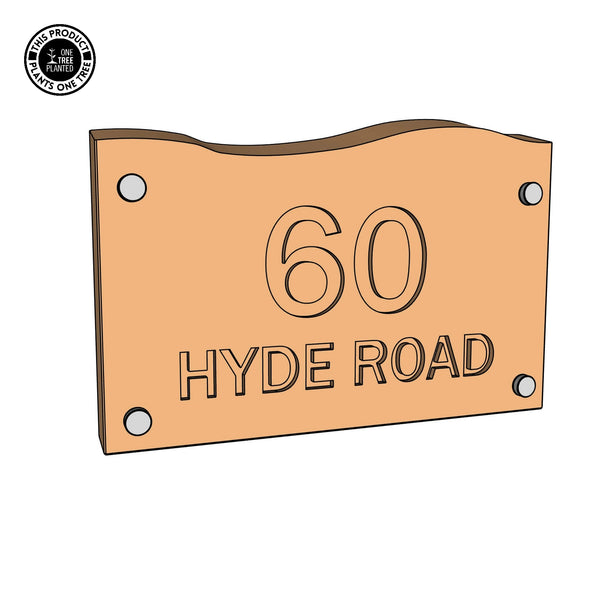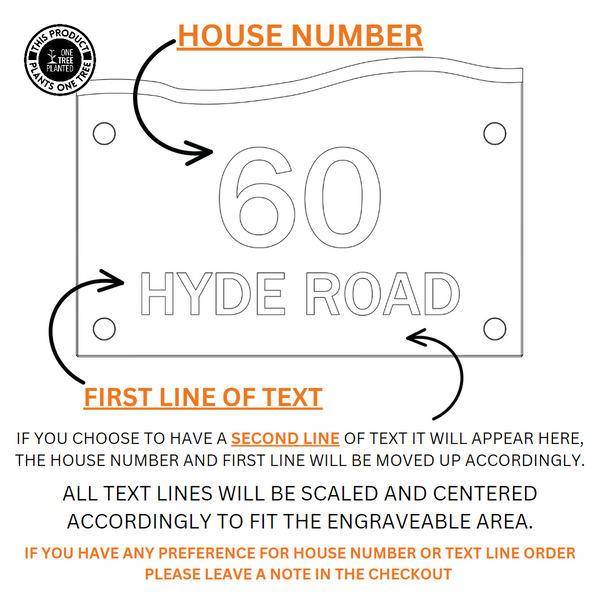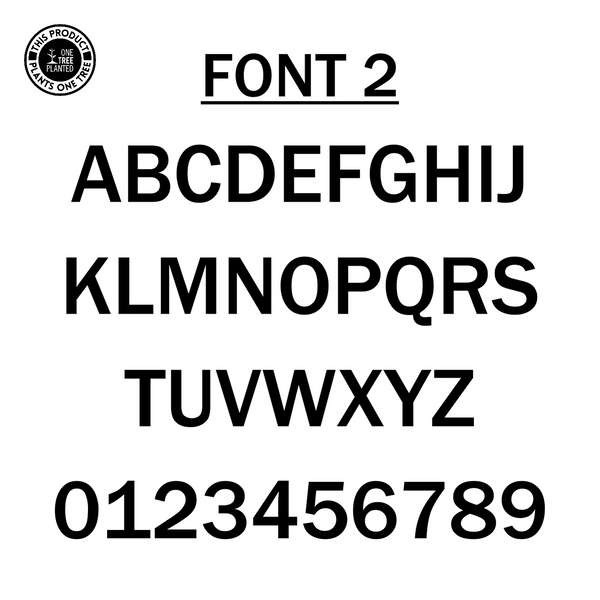 Solid Oak House Sign, Font 2, No Infill
Description

Dimensions

Fixings

Delivery

Reviews
Make your home your castle with a Rustic Fox House Sign. This completely personalised, engraved house sign is made of 35-40mm thick oak and conjures immediate doorstop appeal.  
This particular iteration is one of twelve different personalisation options:
Font style 2 (a sharper, perhaps grander font)

Engraving style - unpainted (as opposed to hand-painted acrylic or epoxy resin infill)
Browse the other iterations available to select the perfect, distinctive styling combination for your home. 
Made with thick oak, our personalised signs come with 4 stainless steel stand off fixings, which allow air to circulate all around the wood.  
Furthermore, the top 'live edge' gives a rustic nuance to the placard, the natural contours of the outer trunk of the original tree on show, though the bark itself removed. That edging, as well as the grain pattern of wood itself, will be truly unique with every order. 
We finish each sign with two coats of Barrettine wood preserver and then two coats of FIDDES exterior oil. This will make your natural wood well protected from the elements; we recommend that you reapply a protective layer around every six months, to keep your sign looking its best!
Small sign: 160 x 180 engravable area, 35-40mm thick
Large sign: 320 x 180 engravable area, 35-40mm thick
Letter and number engravings: 5mm depth
All our products come complete with the necessary fixing plugs and screws.
Our House signs are provided with 4 stainless steel stand off fittings.
We also provide 4 Fischer Wall plugs and 4 screws for affixing to the wall.
These items are made to order, so please allow 1 week before dispatch.
If you require a speedier service, please contact us (or leave a note at the checkout page) and we will do our very best to serve your specific needs.
Once dispatched we aim to have with you within 2-4 days.
Thank you
Rustic Fox